Last updated on July 8th, 2021 at 11:10 pm
Do Poodles Have Health Problems?
Like all dog breeds, poodles have their share of health concerns.  All dog breeds have genetic and health issues. So, there are health issues that run in the poodle breed for all three sizes of the poodle (standard, miniature, and toy). However, some of the health problems seen in poodles can be eliminated through good breeding practices.
In this article, we will discuss what health problems are commonly seen in poodles, and how common are health problems in the poodle breed compared to other dog breeds. We will discuss the causes, symptoms, management, and prevention of health problems in poodles. We will discuss which poodle health problems are peculiar to the standard poodle, the miniature poodle, and the toy poodle, respectively.
In poodles, some health issues are more common than others. Nevertheless, the poodle breed is generally considered a very healthy breed. However, as with every other dog breed, certain diseases and conditions could present themselves in poodles.
There are ways to protect yourself from getting a puppy with a disease. And, if you do end up with a poodle that has a disease, there are usually ways to treat it and give your poodle a comfortable and happy life. This article will provide you tips that can help you manage your poodle`s health problems.
How We Did Our Research
For our research, we analyzed the reputable OFA database that contains millions of health test results on all dog breeds. From the data, we identified the health problems that are commonly seen in the poodle breeds. We compared how common these health problems are in poodles to other dog breeds. We discuss each of these poodle health problems. Our discussion includes how to prevent your poodle from having these health problems, symptoms of the health problems, and how to treat or manage these health problem.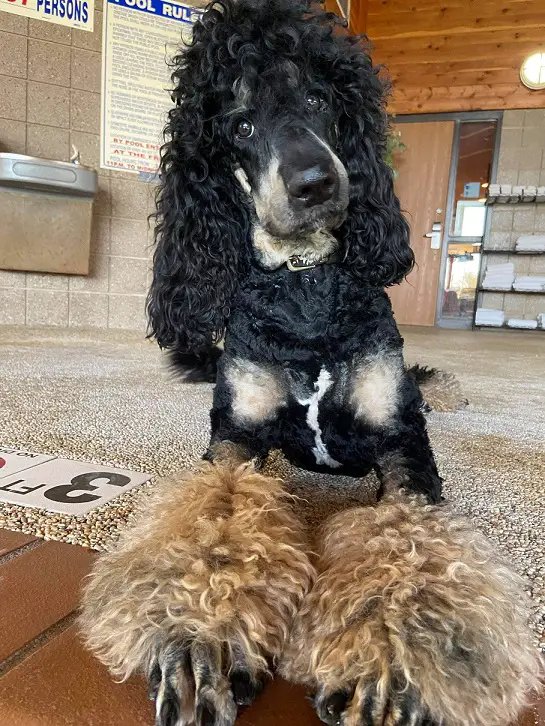 Health Problems in Poodles
There are two main types of poodle health problems:
Genetic health problems: These are problems that poodles are born with. Just like people are born with diabetes and arthritis due to genetic inheritance, poodles can also have diseases that are genetic too. However, good breeders can prevent, to some extent, the passing on of "bad" genes to their puppies and, thereby, prevent inheritable genetic defects. Reputable poodle breeders do genetic health tests on their poodles and these breeders won`t breed poodles that have bad genes. Genetic problems in poodles can be grouped into three main categories:
Physiological Problems: e.g. thyroid problems, blood clotting, seizure disorders
Eye Disease: e.g. cataracts, progressive retinal atrophy
Joint Defects: e.g. patellar luxation, Calve-Legg-Perthes disease, hip dysplasia
Non-genetic problems: Poodle can also suffer from health problems that are non-genetic. These problems usually occur in poodles that do not receive proper care. For example, poodles have a tendency to have ear infections. So, if you do not clean your poodle`s ears regularly, your poodle might develop ear infections. In addition, poodles can develop different types of allergies. Non-genetic health problems like these can be prevented and treated in poodles.
Genetic Health Issues that Affect Poodles of all Sizes
Starting from the most common diseases, the following are the most common genetic diseases that run in the poodle breed. For reference, this list also includes how much poodles are affected by these health problems relative to other dog breeds.
Hip Dysplasia: Compared to other poodle genetic health problems, hip dysplasia is the most common health problem. Hip Dysplasia is very common in Standard Poodles. Dysplasia is not peculiar to the poodle breed. Dog breeds like Pugs, Bulldogs, Old English Bulldogge suffer from Hip Dysplasia more than poodles. In fact, Poodles rank number 102 among other dog breeds for the hip dysplasia health problem.
Dentition (teeth) Problems: According to the OFA Database, the second most common genetic health problem in poodles are detention issues. This means poodles can suffer from teeth problems that make their adult teeth not to fully erupt. These dog breeds are the ones that suffer dentition problems the most: Alaskan Klee Kai, Norwich Terrier, Havanese, Bulldog. Compared to other dog breeds, poodles rank number 21 for dentition problems.
Elbow Dysplasia: Although Elbow Dysplasia is the third most common health problem seen in the poodle breed, Elbow dysplasia is more common in dog breeds such as Chow Chow, American Bully, Rotweiller, Pug, and Bulldog. Compared to other dog breeds, poodles rank number 85 for Elbow Dysplasia.
Patellar Luxation: This is the fourth most common health problem in the poodle breed. Compared to other dog breeds, poodles rank number 59 for Patellar Luxation. Patellar Luxation affects dog breeds such as Pomeranian, Australian Terrier, Yorkshire Terrier, and English Toy Spaniel more than it affects poodles.
Sebaceous Adenitis: This is the fifth most common health problem in the poodle breed. Compared to other dog breeds, poodles rank number 1 for Sebaceous Adenitis. This means that poodles have this disease more than any other dog breed.
Thyroid Problems (e.g Addison`s Disease): This is the sixth most common health problem in the poodle breed. Compared to other dog breeds, poodles rank number 84 for Genetic Thyroid Problems. Thyroid problems are more common in dog breeds such as the Setters, Eurasiers, Spanish water dogs, and Dalmatians.
Eye problems: This is the seventh most common health problem in the poodle breed. Compared to other dog breeds, poodles rank number 117 for Genetic Eye problems.
RCD4 Progressive Retinal Atrophy: This is the eighth most common health problem in the poodle breed. Compared to other dog breeds, poodles rank number 4 for Progressive Retinal Atrophy.
Degenerative Myelopathy: This is the ninth most common health problem in the poodle breed. Compared to other dog breeds, poodles rank number 49 for Degenerative Myelopathy.
Legg-Calve-Perthes Disease: This is the 10th most common health problem in the poodle breed. Compared to other dog breeds, poodles rank number 11 for Legg-Calve-Perthes.
Progressive Retinal Atrophy: This is the 11th most common health problem in the poodle breed. Compared to other dog breeds, poodles rank number 12 for Progressive Retinal Atrophy.
Advanced Cardiac Problems: This is the 12th most common health problem in the poodle breed. Compared to other dog breeds, poodles rank number 40 for Progressive Retinal Atrophy.
Neonatal Encephalopathy with Seizures: This is the 13th most common health problem in the poodle breed. Compared to other dog breeds, poodles rank number 1 for Neonatal Encephalopathy with Seizures.
Regular Cardiac Problems: This is the 14th most common health problem in the poodle breed. Compared to other dog breeds, poodles rank number 71 for Regular Cardiac Problems.
Von Willebrands Disease: This is the 15th most common health problem in the poodle breed. Compared to other dog breeds, poodles rank number 6 for Von Willebrands disease.
The table below shows the most common health problems that are seen in the poodle breed, and how common these health problems are in the poodle breed, and how the other dog breeds compare to the poodle breed on health issues.
| | | | | |
| --- | --- | --- | --- | --- |
| Poodle Genetic Health Problem | | | | Poodle Rank for Disease (Compared to Other Dog Breeds) |
| | | | | |
| DENTITION (TEETH) PROBLEMS | | | | |
| | | | | |
| | | | | |
| | | | | |
| | | | | |
| | | | | |
| RCD4 PROGRESSIVE RETINAL ATROPHY | | | | |
| | | | | |
| | | | | |
| PROGRESSIVE RETINAL ATROPHY | | | | |
| ADVANCED CARDIAC DISEASES | | | | |
| NEONATAL ENCEPHALOPATHY WITH SEIZURES | | | | |
| | | | | |
| | | | | |
| | | | | |
| | | | | |
| CANINE MULTIFOCAL RETINOPATHY | | | | |
| | | | | |
| | | | | |
| | | | | |
| | | | | |
| DAY BLINDNESS/RETINAL DEGENERATION | | | | |
| | | | | |
| EXERCISE INDUCED COLLAPSE | | | | |
| | | | | |
| | | | | |
| | | | | |
| | | | | |
| | | | | |
| MUCOPOLYSACCHARIDOSIS (MPS) IIIB | | | | |
| MUCOPOLYSACCHARIDOSIS (MPS) VI | | | | |
| MUCOPOLYSACCHARIDOSIS I (MPS I) | | | | |
| | | | | |
| | | | | |
| | | | | |
| | | | | |
These genetic diseases are all easily identified by a simple genetic test. To test your poodle for these diseases, you can swab the inside of the cheek of your poodle and send the sample to a lab. The results will come back with one of three results: clear, carrier, or affected. If your dog is clear, that means he does not have the disease and does not carry the disease, so he cannot pass the disease on to any offspring. If the result of the test is that your dog is a carrier, that means that the dog will never have any symptoms of the disease. It could, however,  pass that disease on to offspring if it is bred to another carrier of the disease. If the test result comes back that your dog is affected,  that means that your dog will eventually develop symptoms if he has not already.
Now we will discuss these health problems in details.
Sebaceous Adenitis
Sebaceous Adenitis (SA) is a skin disease appearing most frequently in young adult dogs. For reasons currently unknown, sebaceous glands become inflamed and may eventually be destroyed leading to progressive loss of hair.
SA has been diagnosed in the Akita, Collie, Dalmatian, Dachshund, German Shepherd, Golden Retriever, Irish Setter, Lhasa Apso, Maltese, Miniature Pinscher, Old English Sheepdog, Poodle (Toy, Miniature and Standard), Samoyed, Springer Spaniel, St. Bernard, Vizsla, Weimaraner, as well as mixed breeds.
Symptoms
Describing the clinical appearance of SA is difficult. First, because the disease can look different in different breeds and second because the disease can vary from so severe that owners legitimately consider euthanasia as an option to so mild that no clinical lesions are present, and diagnosis requires microscopic examination of a biopsy sample. In spite of the wide range of lesions that make up sebaceous adenitis, the lesions are all associated with excess dandruff (scaling) and/or hair loss.

In poodles, the scaling is often silvery. In severely affected poodles, hair loss and scale can be severe and it is often accompanied by a musty odor and secondary skin infections.
Because SA can look like so many other diseases (including hypothyroidism or an allergy), diagnosis requires microscopic examination of a skin biopsy by a veterinary pathologist. The procedure is safe and causes minimal discomfort to a dog.
Treatment
Currently, there is no cure for SA. The disease seems to go in cycles. A dog will lose hair, regrow some–usually of a different texture– and then lose hair again. Antibiotics are necessary to control secondary skin infection. Except in Vizslas, there is serious doubt that retinoids (such as Accutane)have any beneficial effect on SA-affected dogs.

At best, what one can do to improve the dog`s appearance and to make it more comfortable is to bathe it frequently (weekly may be necessary at first) with hypoallergenic dog shampoo to loosen and remove scaling and dead hair.

Oil baths have improved the appearance of many SA affected Standard Poodles. An inexpensive, non-perfumed baby oil or bath oil mixed half and a half with water is sprayed onto the dog and rubbed into the skin until it is thoroughly saturated. Let the dog soak for one hour. Shampoo several times to get out all the oil. The water will run gray with loosened scales. A good dog creme rinse should follow the final shampoo.

Some dogs will have significant hair regrowth following this treatment. Others do not. However, there is no question that the additional bathing and oiling helps restore lubricants to the skin that are missing due to the absence of sebaceous glands.

SA is a cosmetic disorder. Most SA dogs are happy, healthy animals requiring the same love and attention from their owners that they did before they developed the disease.

SA in Poodles was identified in veterinary research in 1987. There is a misconception that it affects only certain colors of Standard Poodles. In reality, it has been diagnosed in every color.
Through a test breeding funded by the Poodle Club of America and administered by Michigan State University, the mode of inheritance in this breed has proven to be simple (one gene) autosomal recessive.

Statistics show that perhaps as high as 50% of all Poodles are SA carriers or affected. Therefore it is important that every Poodle, whether used in a breeding program or not, be tested for SA. Anyone planning to purchase a Poodle puppy is urged to request a written copy of the SA test results on the sire and dam.
Progressive Retinal Atrophy
Progressive Retinal Atrophy (PRA) is one disease that has been found in all poodle sizes. The bad news is that this disease causes early-onset blindness in its victims. The good news is that a simple cheek swab genetic test can tell you whether your dog is affected or a carrier. Because of the development of such tests, breeders have been able to make sure that they are not producing affected puppies. When you are looking for a poodle puppy, this is the most important genetic test to ask about. You will want to make sure that the breeder has tested both parents for this disease. You are looking for a puppy from two parents who are clear for the disease or a puppy from one parent who is clear and one who is a carrier. If you have a puppy who is a carrier for PRA, that puppy will never actually be affected by the disease, but it could pass on the disease to its offspring if it is bred with another dog that is a carrier or affected. So, if you are planning on starting up your own breeding program, it is best to look for a puppy that has parents who are both clear of PRA. If you are looking for a pet, owning a puppy that is a carrier is not a problem, as a carrier will never develop symptoms.
Symptoms
The only symptom of PRA is blindness. If your poodle has PRA, you may notice that your poodle has started to bump into the furniture. He may seem confused when you move furniture around. He may start wanting to be near you all the time. If the loss of sight is beginning, the symptoms may be subtle but will slowly progress as time goes on.
Treatment
Vitamins and a comfortable, predictable environment can slow the progression of PRA, but cannot eliminate it. If you caught PRA early in its progression, some vitamins could potentially help slow the loss of sight. Your vet can help you decide on the best vitamins for your poodle. If the disease has progressed far enough that your poodle is entirely or almost entirely blind, you can still help your poodle to be comfortable by keeping his environment stable and predictable. Do not move your furniture around, especially if you have allowed your poodle on the furniture. He has likely memorized the layout of his favorite places in the house. He will know how to jump on and off the couch, but if you rearrange and move your couch, he will become confused. It may take a while for him to figure out the new layout. If you can avoid moving, then do not movie. It is important to stay in the house that your dog already knows well.
Degenerative Myelopathy
Degenerative Myelopathy (DM) is another disease that can be common in the poodle breeds if the breeding program do not test for it. In this disease, the nerves of the dog slowly begin to degenerate. This causes partial to full paralysis. It usually starts in the hindquarters. This can make it difficult to differentiate DM from hip dysplasia. However, DM is a genetic mutation that can be tested for and eliminated from a breeding program. Dogs that are affected with DM usually lose the ability to walk within a couple of years of the onset of symptoms. This disease usually progresses more slowly in the small breeds like the toy poodle and more quickly in the large breeds like the standard poodle. So even though all sizes of poodles can inherit this disease, it is especially harmful to standard poodles.
Symptoms
Weakened limbs, loss of feeling are symptoms of DM. You may notice that your dog begins to limp. Sometimes the symptoms look like hip dysplasia. When you notice weakened hindquarters and limping, a vet will want to x-ray to look for hip dysplasia as well as testing for DM.
Treatment
There is no cure for this disease right now. The treatment for DM in dogs includes pain management. This can be done through medication, exercise, and certain kinds of braces.
Neonatal Encephalopathy with Seizures (NEWS)
NEWS  is a heartbreaking disease to breeders, but as a buyer, you will not be at risk of getting a puppy with this disease because there has yet to be a documented case where the puppy lived past seven weeks of age. Usually, these puppies are born very small and week and die within days. Some live for a few weeks but suffer from seizures during their short lives. If you are looking to breed your poodle puppy, then you will want to make sure that your puppy is not a carrier for this disease. If you are only looking for a pet, you will not be at risk of encountering this disease in your puppy because it will be evident if a puppy has this disease long before it is of age to go to its new home.
Symptoms
Seizures. Puppies with this disease will usually die when they are only a couple of days old, but if they do live for a few weeks, they will have severe seizures.
Treatment
None. Sadly, there is no treatment for this disease.
Von Willebrand Disease
Von Willebrand Disease (VWD) is a blood clotting disorder that has been found in roughly 9% of poodles. This is another disease that is quite easy to test for and eliminate. Ethical breeding will cause the frequency of this disease in poodles to decrease.
Symptoms
Excessive or spontaneous bleeding. Wounds that will not heal. Uncontrollable bleeding after surgery. These symptoms can present themselves at any age. Most poodle owners will become aware of this disease in their poodle after they have spayed or neutered their poodle. Spaying and neutering can result in more bleeding than usual in poodles with mild cases of VWD. If a poodle has a severe case, bleeding may be excessive. In very severe cases, death may occur if the bleeding cannot be stopped.
Treatment
Blood transfusions and plasma donations may be required in instances of severe disease. Many dogs, however, can live quite comfortably with a mild form of this disease. As an owner of a poodle with VWD, you will want to take extra precautions to help your dog avoid injury that could make your poodle bleed.
Canine Thyroid Disease (e.g Addison's Disease)
Canine Thyroid Disease happens when the thyroid glands do not produce enough of the hormones they are meant to produce. The thyroid shrinks and appears smaller than it should be. In rare cases, the thyroid can be enlarged and overproduce, but usually, canine thyroid disease is a result of a small thyroid that underproduces.
Symptoms
Poodles with thyroid disease will usually start to lose their hair. This is often the first and most obvious sign of the disease. You may also notice weight gain and increased sensitivity to the cold. But these latter two can often be symptoms that are more difficult to discern than hair loss.
Treatment
Thankfully, there is a straightforward treatment for this disease. Once diagnosed through a blood test, your dog will be given an oral replacement hormone for the duration of her life.
Epilepsy
Canine epilepsy is one of the most common health issues in all dog breeds, and the poodle is no different. Unfortunately, there is no genetic test for epilepsy. The most common type of epilepsy in poodles is idiopathic epilepsy.
Symptoms
The Canine Health Foundation describes the symptoms of this common form of epilepsy. They say,  "repeated seizures in one to five-year-old dogs with a normal neurologic examination, where there are no known structural abnormalities of the brain, metabolic diseases, or toxin exposures, are often assumed to be a form of idiopathic epilepsy."
Treatment
The two most commonly used medications to treat seizures in dogs are phenobarbital and potassium bromide. If your dog has a seizure, make an appointment with your vet to discuss the frequency and type of seizure. Your vet will make a recommendation for medication. Most dogs with epilepsy can live a normal life when given the right medication.
Health Issues Specific to The Standard Poodle
The following diseases are harder to eliminate from a breeding program because although they have a genetic component, they are not necessarily genetic. There are no genetic tests that can tell you definitively that your dog is affected or a carrier. However, screenings and x-rays can tell you if your dog is predisposed to these diseases.
Hip Dysplasia
Hip Dysplasia is most common in the standard poodle. On rare occasions, it can affect miniature poodles, but it is rarely present in toy poodles. It is common for hip dysplasia to affect larger breeds.
Hip Dysplasia can be genetic, but there is no test for it to eliminate it from a breeding program. You can ask your breeder if the parents have had their hips certified with the Orthopedic Animal Foundation (OFA). Even dogs with good hips can sometimes produce a puppy that will end up with hip dysplasia. This is because there are also nutritional and environmental factors that contribute to the development of Hip Dysplasia. The best way to make sure that your puppy does not develop this health issue is to purchase a puppy from a breeder who has had the parents hips OFA certified and to ensure proper nutrition and exercise for your puppy.
Symptoms
When a dog has hip dysplasia, it usually has weakened hindquarters. You may notice that your dog limps slightly if he has a mild to moderate case. In severe cases, the dog will not even be able to walk. Hip dysplasia will usually become apparent within the first two years of life. As the puppy grows and gains weight, the hips will not be able to support the weight of the growing puppy.
Treatment
In severe cases of hip dysplasia, reconstructive hip surgery is an option. In milder cases, pain management is generally considered the best option for treatment.
Cardiac Problems (Congenital Heart Disease)
According to OFA, congenital heart disease in dogs is a malformation of the heart or great vessels. This is a disease that can be a problem in the standard poodle. This is because heart disease tends to be more problematic in larger breeds. In this disease, the heart becomes too weak to pump blood through the body. You can ask your breeder if a cardiac exam has been done on the parents of your puppy. This can reduce the risk that your standard poodle puppy will develop congenital heart disease.  This is another disease that has a genetic component but is not necessarily genetic. There is no genetic screening test that can identify carriers of this disease. However, a thorough cardiac exam on a breeding pair can reduce the chances that a puppy from that litter will develop the disease.
Symptoms
Dogs with congenital heart disease will have shortness of breath or difficulty breathing, coughing, fainting, fatigue.
Treatment
Veterinarian prescribed medication. If you notice these symptoms in your dog, schedule a cardiac exam right away. The exam will reveal if the symptoms are a result of heart disease or failure. If your dog does have heart disease, your vet will help you get your dog on the best course of treatment via medication. 
Health Issues Specific to Toy and Miniature Poodles
Patellar Luxation
Patellar Luxation is most common in small poodle breeds. In this condition, the joints of the elbows are too loose and cause problems when the dog walks. Although there seems to be a genetic predisposition to this condition, it is not necessarily genetic. Sometimes patellar luxation can be the result of an injury. This makes it a difficult condition for breeders to eliminate. Having the parents' elbows screened can certainly help by making sure that two dogs with patellar luxation are not bred together. However, this condition can present itself even when the parent dogs did not have it.
Symptoms
You may notice your poodle limping or favoring one leg. In very severe cases, the dog may not be able to walk on his own.
Treatment
You can work to deepen the grooves of your poodle's kneecaps so the knees will not come out of joint so easily. This can be done with daily exercises like physical therapy. If the case is severe, surgery can correct it.
How can I make sure I get a healthy poodle puppy?
The best way to make sure you get a healthy puppy is to buy your poodle puppy from a breeder who has done all the recommended health testing on the parents. You can do this by interviewing your breeder and asking to see the genetic health certificates for each of the parents. You can also ask for the OFA certificates on the hips and/or patella of the parents. If all testing has been done, you will most likely have a healthy poodle. Of course, it is important to remember that not all health issues are genetic, and some cannot be discovered through testing. Cancer, for example, seems to present itself in certain poodles with no genetic component. Buying from a reputable breeder who does genetic and health testing is the best way to get a healthy poodle puppy. However, you should still have some money set aside for health issues that your puppy could develop.
What if I already bought my puppy, and I do not know if genetic testing was done?
Maybe you just bought your adorable new puppy, and you have decided to research health issues in poodles. You may be wondering what you should do if you already bought your puppy but did not ask the breeder about health and genetic testing. If the breeder did not bring it up to you, chances are they did not do genetic testing. It is best practice to purchase a puppy from a breeder who does health testing. However, that does not mean that your puppy is bound to end up sick. If you purchase a puppy from parent dogs who were not health tested, you can still end up having a healthy puppy. It is, however, a greater risk. If you have a puppy that you bought from a breeder who did not health test, the first thing you can do is to order genetic tests for your puppy. The procedure is simple. You go to the website, search for tests according to the breed, and order them. When they arrive, you swab the inside of his cheek with the swab. Then mail it back. Within a few weeks, you will have the results. If your results come back clear or that your puppy is a carrier for a disease, you have nothing to worry about. However, if any of the tests come back saying that your dog is affected,  you know that your puppy will have that disease. If that happens, you cannot know how severe the disease will be, but you can talk with your vet and begin doing whatever you can to prevent or lessen the severity of symptoms. Early diagnosis of any disease will help you get the best outcome for your puppy. If you did not buy a puppy that came from health tested parents, do not panic. You can do the health testing yourself on your puppy.
What should I do if my poodle puppy gets one of these diseases?
If a disease is present, at least you will have diagnosed your puppy early. This early diagnosis will give you a head start on helping to slow the onset of symptoms. Communicating with your veterinarian during this time will be crucial. Your vet will know if you need to give vitamins or medications to help treat or prevent the progression of the disease.
Non-Genetic Health Problems in Poodles
The following are health problems that poodles typically suffer from, but which are not genetic:
Bloat
Canine bloat, or gastric dilatation and volvulus (GDV), is one of the top causes of death in dogs, and it is especially prevalent in the standard poodle breed. This condition happens when gas accumulation in the stomach causes the stomach to rotate. When the stomach expands and twists, it puts pressure on other organs and sends the dog into shock. A mild case of bloat can go on for days before becoming serious, but a severe case can kill a dog within minutes. Bloat is most common in standard poodles, although it could happen to a poodle of any size.
Symptoms
Dogs suffering from bloat will suddenly begin behaving as though they are vomiting, but there will be nothing coming up. Their abdomens will feel bloated and hard to the touch. The dog might pant or pace. If you notice these signs in your poodle, you will want to get him to a vet immediately.
Treatment
This devastating condition can be prevented by serving smaller meals and only a small amount of water at a time. Some people even choose to have surgery done to tack down the stomach tacked during the spay or neuter to help reduce the chance of bloat. Preventative treatment is best, but if your poodle does experience bloat, take her to the vet immediately. If your vet believes that there is time to save your poodle, surgery will be performed immediately. Veterinarians have been reducing the fatality rate of dogs that have bloat. Although it is a serious condition, vets can save dogs with bloat at a higher rate than ever before.
Ear Infections
Ear infection in poodles is another health issue that is common to poodles of all sizes. This is not a genetic health issue. Poodles get ear infections because their hair grows so quickly that it can be difficult to keep the hair inside the ears trimmed in between grooms. When the hair grows long and thick inside the ear, it traps the moisture in. This causes yeast infections that need to be treated with anti-fungal medication. Click here to learn more about why poodles are prone to ear infections and what you can do to prevent ear infections in your poodle.
Symptoms
You can tell if your poodle has an ear infection if he whines when you scratch him behind the ears. Some poodles will scratch at their ears or shake their heads. If you suspect an ear infection, you can smell near the ears. A yeast ear infection has a pungent smell that is easily recognized. If you notice this smell and your poodle is behaving as if her ears hurt, make an appointment with your vet.
Treatment
Your vet will probably give you ear drops to treat the fungal infection. You can also do the preventative treatment by taking your poodle to the groomer at least every six weeks and trimming the hair in the ears in between grooms.
Allergies
Allergies can affect the poodle the same way they affect any other breed. For reasons still unknown to veterinarians, it seems that dogs with lighter fur colors are more likely to have skin allergies. Food and seasonal allergies affect poodles of all colors equally.
Symptoms
Allergies can present themselves in a variety of ways. Some food allergies result in skin irritations. Other food allergies can cause an upset digestive system. Seasonal allergies can produce a cough or cold-like symptoms like they do in humans.
Treatment
If your dog suffers from food allergies, you will need to eliminate certain ingredients from the food you use and do a trial and error until you figure out which ingredient is irritating. A vet can give you guidance in this process. You will want to start with eliminating grain since that is the ingredient that is most likely causing the allergy. The symptoms of skin allergies can often be treated topically with anti-itch medications.
Seasonal allergies can be treated with antihistamines, steroids, or in severe cases, allergy shots.
Will poodle mixes have health and genetic problems?
It is a myth that a hybrid dog will not have genetic diseases. In recent years, some proponents of hybrid dogs suggested that if you bought a mixed breed, you would not have to worry about genetic testing or other diseases. This claim is simply false. Truthfully, the same genetic diseases can run in different poodle breeds. For example, Degenerative Myelopathy (DM) runs in poodles as well as bichons. The bichon poodle mix has been a popular hybrid mix for many years. Breeders who do not test for DM in their poodle and bichon breeding pairs run just as much of a risk of producing affected puppies as do purebred breeders. A genetic disease affects a puppy when both of its parents are carriers of the disease. A bichon is just as likely as a poodle to be a carrier for DM. Therefore, the hybrid is just as likely as the purebred to inherit this genetic disease if the parents have not been genetically tested for it. On the other hand, if both parents are genetically tested for diseases, then it does not matter whether the parents are both purebred or of different breeds because the breeder will be aware of whether or not the parents are carriers for a specific disease. Some unethical breeders will tell you that they do not test for genetic diseases because they are breeding mixes and that mixes do not need to have their parents tested. This is an excuse, and it is a sign of an unethical breeder. A reputable breeder will do everything in his or her power to make sure to produce healthy puppies.
Spaying, Neutering, and Poodle Health
Spaying or neutering your dog at the appropriate age is important for his or her health. If you spay or neuter too early, it could have adverse effects on their growth. Your poodle should be spayed or neutered no earlier than one year of age. If you have a female poodle that is not going to be breeding, spaying should happen as soon as she is fully grown. Females who go through heat cycles and do not have litters are at a greater risk for developing ovarian cancer. Male dogs do not seem to have any health risks if you choose not to neuter. However, male dogs can have undesirable behaviors when they are not neutered. They may mark their territory in the house or show dominating behaviors toward family members and other animals.
How You Can Cover the Costs of Your Poodle`s Health Treatment
You may want to consider purchasing pet health insurance for your puppy. You can do this even before you do any genetic testing on your puppy. Several excellent pet health insurance plans can help you afford to care for your puppy throughout his or her life no matter what diseases or health issues may arise.
If you are not interested in paying the monthly fee for pet insurance, you can save up enough to consider your pet self-insured. It is a good idea to open an account for medical care even before you purchase a puppy.
Final Thoughts
Yes, the poodle does have a list of health issues and genetic diseases that could present themselves. However, the poodle is generally a healthy breed. Ethical breeding practices have helped reduce the occurrences of genetic diseases.
Also, it is important to know that the data from the OFA database might be skewed for some reasons. First, irresponsible breeders, the ones least likely to care about the health of their dogs, don't bother with genetic testing. And if they do, those breeders can decline to have negative results included in the database.
In short, registry in the OFA database is voluntary. The best of the breeders will register results; others won't. All the more reason to ask for proof of genetic testing from any breeder you visit.
References