Last updated on April 21st, 2022 at 08:33 pm
Buying a Standard Poodle
Are you thinking of owning a standard poodle, and you are wondering how much does a standard poodle cost?
If you`ve been admiring the standard poodle and hoping to add one to your family, you may be wondering just how much you`ll need to save up before you can bring your poodle puppy home.
This article will tell you how much it costs to buy a standard poodle. This includes the current price of standard poodle puppies, the factors that affect how much it will cost you to buy a standard poodle puppy, reputable sources to buy standard poodle puppies, and how to go about selecting a poodle breeder and selecting a puppy.
Factors that influence how much a standard poodle will be sold for include: lineage of the puppy, the reputation of the breeder, the color(s) of the standard poodle, and extra perks that come with your puppy (microchip, AKC registration, health test records, etc).
To find out how much it costs to raise and keep a standard poodle, check out this article on how much it costs to keep a standard poodle.
This article is on buying a standard poodle and standard poodle price. If you are looking to buy a toy poodle, check out our toy poodle price guide here. If you are looking to buy a miniature poodle, check out our miniature poodle price guide.
How Much Does a Standard Poodle Puppy Cost?
On average, a purebred AKC registered Standard Poodle puppy will cost $1 500. However, there is a big variation in the cost of standard poodle puppies from this average price. This is because a number of important factors affect the cost of a standard poodle puppy.
To illustrate the huge variation in standard poodle puppy prices, we did a study to find out how much standard poodle puppies cost in the USA. We looked through more than 800 price listings of standard poodle puppies. Our survey included puppy prices from both AKC and non-AKC breeders.
We found that standard poodle puppy prices can vary from $400 to $20 000, with the average price of a standard poodle puppy at $1 500. Standard poodle puppies with unique colors are typically sold for a very high price. These colorful standard poodle puppies can cost as high as $20 000.
See the price distribution of standard poodle puppies in the USA in the graph below. From this survey of 800 price listings of standard poodle puppies, 161 standard poodle puppies were listed for sale at $1500, and 95 standard poodle puppies were listed for sale at $2000, and so on.
Later on, we will discuss in detail the factors that determine how much standard poodle puppies are sold for.
I bought my standard poodle, Sansa, as a puppy for $2 000 from a reputable Standard Poodle breeder in Arkansas. She came with AKC registration papers. And the breeder had given her all her puppy shots/vaccines that were due at that time. The breeder provided me with her vaccination records.
However, as mentioned, the price of a standard poodle varies from poodle to poodle, from breeder to breeder, and from place to place.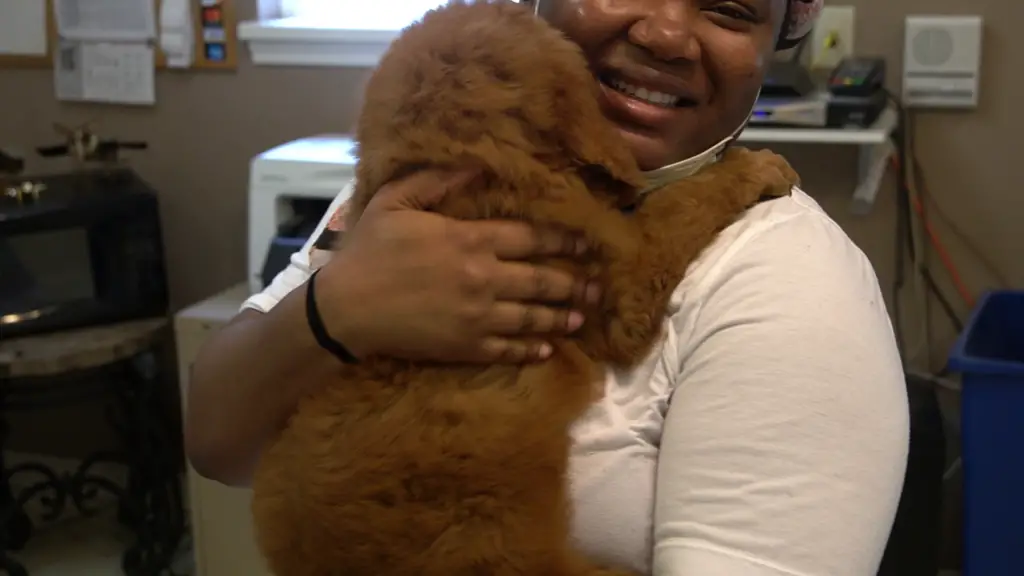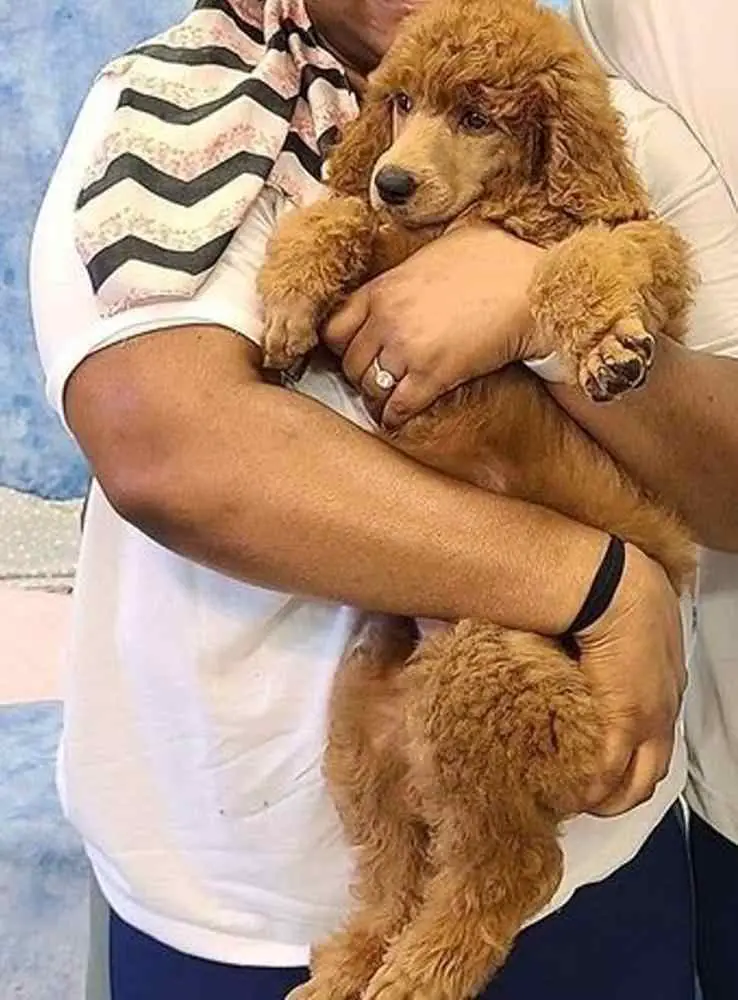 For your convenience, we have compiled a detailed list of reputable AKC poodle breeders in different US states. Check out the list of these reputable poodle breeders and how much they sell their poodle puppies.
What Should I Look for When Buying a Poodle Puppy?
If you want a Standard Poodle puppy, you may be tempted to google "poodles near me" or check the classifieds and go to the first breeder you can find that has a litter available.
There`s nothing wrong with finding a breeder by searching online or looking in the classifieds. However, you will want to do your research before purchasing from any breeder. 
It is my recommendation that anybody that wants to buy a standard poodle puppy should make the reputation of the breeder a higher priority than how much they are willing to spend on the puppy. That is, do not fall for cheap standard poodle puppies from a breeder with a questionable reputation. Buy poodle puppies from established poodle breeders.
One quick and easy way to find out if a breeder is reputable and well-established is by looking up the breeder in the American Kernel Club (AKC) and the Poodle Club of America databases. The AKC and the Poodle Club of America keep records on established standard poodle breeders.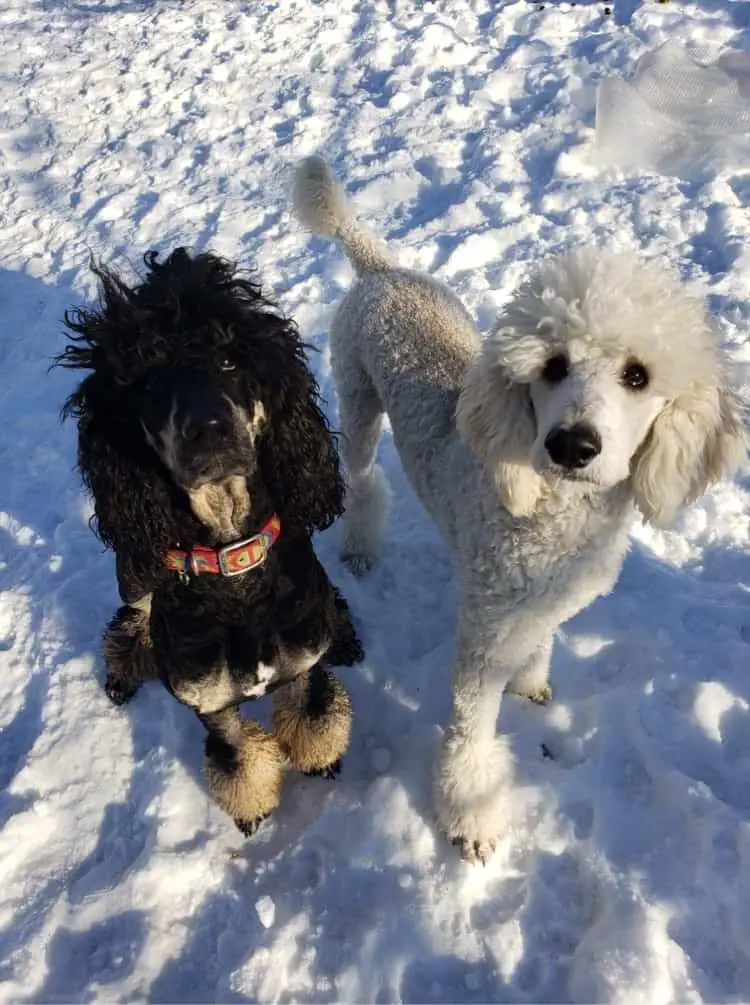 Buying a standard poodle from a reputable breeder will save you money in the long run because standard poodles from ethical breeders do not usually suffer from avoidable health problems. If you buy a poodle from just any breeder, your purchase might turn out to be more costly to you in the long run, even if this breeder sells you the poodle at a cheap price. This is because the money that you think you would save by buying a cheap poodle from a breeder without a reputation might be small compared to how much you could later spend on medical treatment of the standard poodle.
One advantage of buying a puppy over adopting one is that you can look into the lineage of a puppy for sale to check if it does come from a line of healthy parents. Healthy parents make healthy puppies. However, you can only know if a puppy`s parents are healthy by researching the puppy`s lineage. You can easily know about your puppy`s health lineage by asking your breeder. Ethical standard poodle breeders do health tests on their puppies` parents. Health tests will reveal if a poodle has a tendency to develop genetic health problems in the future. A reputable breeder will provide you with the health records of your puppy`s parents if you ask.
Poorly-bred standard poodles from unethical breeders are prone to health and behavioral problems and are unlikely to have the characteristics that you want according to the breed standard. Poodles live for quite a long time. In fact, poodles can live up to 18 years. You do not want to deal with a sickly or a badly-behaved poodle for that many years.
Furthermore, the parents of poorly-bred poodles often have the kind of lives that would horrify any loving pet parent. Therefore, make sure that your breeder cares about the breed and their dogs. Make sure the breeder isn`t just trying to make a quick buck.
Here are a few ways to make sure you`re choosing a quality breeder for your standard poodle puppy:
AKC registered. Most responsible breeders register with the AKC. The AKC registry should the first place to look when choosing a breeder. However, not all AKC-registered breeders are responsible. And not all non AKC-registered breeders are irresponsible breeders.
Has all recommended health certifications. The breeder that you choose should have their breeding stock screened for all health conditions that are recommended by the Poodle Club of America. Poodle`s are prone to certain genetic health problems that can be detected and avoided in the breed through health screenings.
Parents on-premises. A good breeder should allow you to meet your dog`s parents. They should be healthy, well-behaved, loved family pets. Avoid breeders who kennel their Standard Poodles or who won`t let you meet the parents.
Ask questions and demand a contract. A good breeder is passionate about their dogs and cares where their puppies end up. Responsible breeders typically have you sign a spay and neuter contract so that their dogs don`t end up being used for breeding instead of as family pets.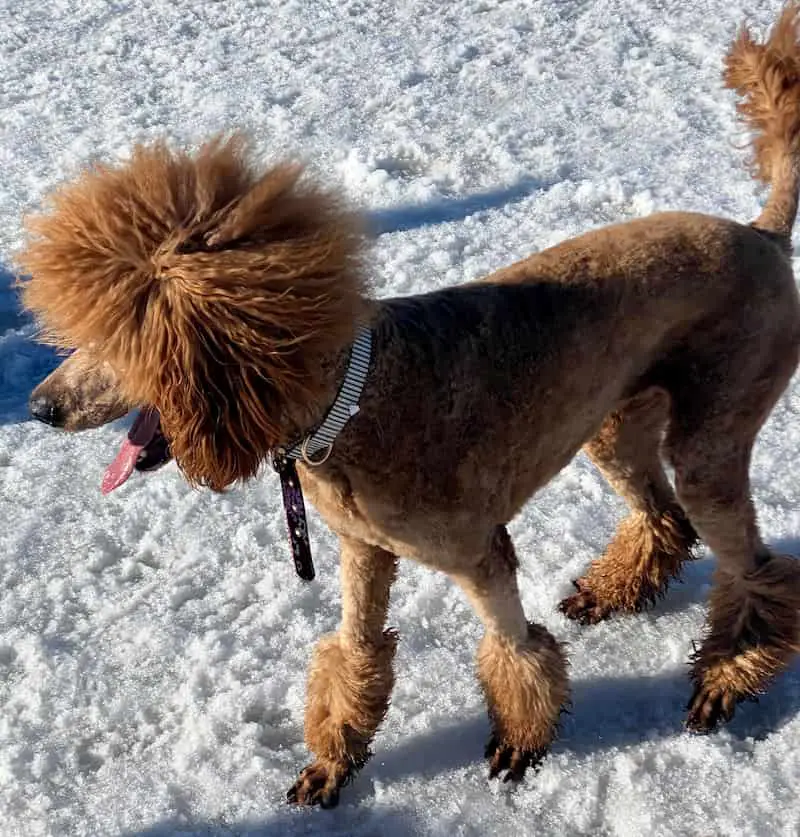 Deposits and Waitlists When Buying a Standard Poodle Puppy
Keep in mind that you'll usually have to put down a deposit for your standard poodle puppy well before the puppy is born. Many quality breeders have waitlists, so it may take some time before you are first in line. Therefore, think ahead and start planning early when you are looking to buy a standard poodle puppy.
Breeders have different techniques for picking the puppy for you, but rarely will you be able to pick a puppy from the litter. The breeder will usually match you to the puppy according to whether you want a pet or a dog with show potential. Breeders may also match you according to the individual characteristics of the standard poodle puppy. 
What Determines the Price of a Standard Poodle Puppy?
A number of factors go into how much your Standard Poodle will cost. These are:
Ancestry
Standard Poodles puppies from parents that have won prizes in the dog show ring cost more than those from lines who have not won as frequently in the show ring. If both parents of your standard poodle puppies are repeat champions, you can expect to pay the highest prices for the puppy. Even if a standard poodle has a remote ancestor that has won a price in the show ring, expect to pay more for that standard poodle puppy. Buying breeding rights to a dog with good show potential will cost more as well. 
This is because dog shows are not beauty contests, instead they are conformity shows. That is, the judges at dog shows check how close the contesting dogs are to the pure breed standard. Therefore, a puppy that has the potential to be an ideal standard poodle (by the virtue of its lineage) should be will cost more.
Standard poodle puppies with a long lineage free of health problems are also more likely to cost more. Keep in mind that buying such a puppy will likely save you money in the long run, since medical conditions rapidly cost more than the difference in the purchase price.
Color
The AKC only accepts solid colored Standard Poodles in the show ring. However parti colors, or patches of different colors or patches of color with white, also come up in the standard poodle breed. Other variations like Tricolor and Phantom aren`t unheard of either. These standard poodles with non-solid colors are not eligible for AKC shows.
Breeders who are aiming for AKC registration and selling to people who want poodles that would participate in AKC shows favor solid colors. These breeders may charge significantly less for a parti-colored dog, which will not be appropriate for AKC shows. 
On the other hand, a breeder who is primarily breeding pets may aim for parti colors because they are often more popular with poodle purchasers. In these cases, you`ll pay more for rare colors like Tri or Phantom.
So, the bottom line is that the color of a standard poodle has a conflicting effect on the price of a standard poodle puppy. Some breeders charge high for solid color standard poodles and low for a multi-colored poodle. While some breeders charge high for multi-colored poodles.
Conformation
By the time a poodle puppy is around 8 weeks old, breeders with intentions to show will be comparing each puppy to the breed standard to determine which have show potential. Dogs with show potential, if they`re offered up for sale at all, often cost more than dogs who are destined to be house pets. If you want a Standard Poodle who you could someday show, be ready to wait longer and pay more for a standard poodle puppy. 
Gender (Male Versus Female)
For pet dogs, there is generally no difference in price between male and female dogs. However, there may be more or less demand for male or female show dogs, which can affect the price. Whether males or females might cost more depends on the breeder and the situation.
How Much Does an Adult Standard Poodle Cost?
Whether you want a male or female dog, you can expect to pay much less for an adult Standard Poodle. Standard Poodles may be rehomed by breeders when they are no longer needed for the breeding program. These dogs are often given away for a very small rehoming fee of a couple of hundred dollars and may even go free to a great home. 
Because of the extensive maintenance involved in a Standard Poodle`s coat and because these intuitive dogs need to live closely with people, breeders generally choose to rehome dogs when they are no longer in the breeding program. Finding a great home can sometimes be challenging. 
Occasionally poodles need to find a new home for other reasons. These are popular pets for older people because they are low shed, self-controlled, and highly trainable. Unfortunately, this too often leaves wonderful dogs homeless when their owners pass away. 
Such dogs are often well-trained, well-loved, and can move smoothly into your home. Other poodles turn up in shelters with tremendously overgrown coats and other signs of neglect. It might take a little bit more work for you to win these dogs` trust and recover their coat, but you can be rewarded with incredible love and gratitude.
If you are looking for a more affordable option in a Standard Poodle and think it might be nice to avoid all of the trouble of potty training and raising puppies, rescuing or buying a rehomed older dog might be a great choice for you.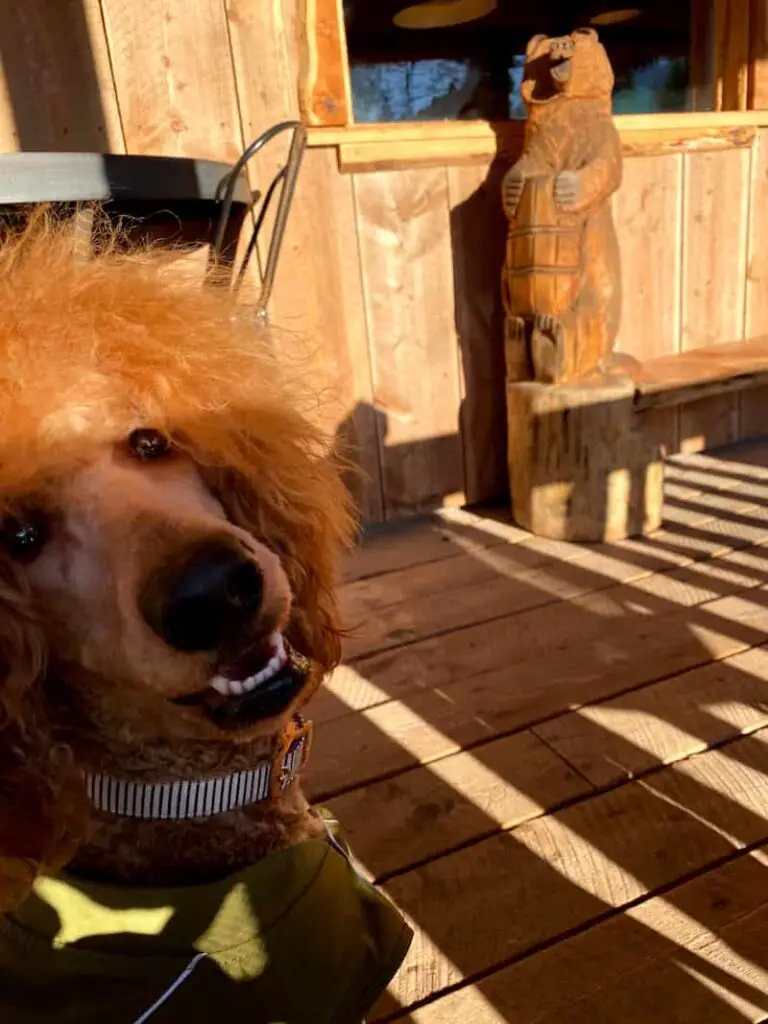 What About Doodles?
If you`re shopping for a Standard Poodle, you are certain to stumble upon breeders of doodles. Doodles are dog mixes between poodles and other dog breeds. People like to breed poodles with other dogs because of the many desired characteristics of poodles.
Common designer doodle breeds are:
Goldendoodle: Poodle + Golden Retriever
Labradoodle: Poodle + Labrador Retriever
Cockapoo: Poodle + Cocker Spaniel
Maltipoo: Poodle + Maltese
To learn more about designer poodles, click here.
Doodles typically cost similarly to a purebred Standard Poodle, between $1500 and $3,000.
Doodles have become insanely popular in the past 50 years or so since they were invented. Cockapoos, or a mix between poodles and Cocker Spaniels, became popular in the 1950s, but it wasn`t until the Australian puppy breeding manager for the Royal Guide Dog Association had an idea that doodles took over popular trends. 
He had tried to train Standard Poodles for seeing-eye work, but found them unsuitable for the task. This is largely because of the sensitivity of the Standard Poodle, which may make them less able to constantly go through new environments as is required of a seeing-eye dog. Therefore, he crossed a Labrador with a Poodle, hoping to get the confident working nature of the Labrador and the intelligence and coat of the Poodle. 
He had some success, but not predictably. The resulting puppies sometimes were practically a Labrador and sometimes practically a Poodle. The ideal dog had a Labrador`s constant temperament and a poodle`s coat. Sometimes not even one dog in a litter would prevent these traits. After years of breeding these dogs, characteristics are still not predictable. There is no cross between poodles and other breeds that is considered a purebred dog by the AKC.
That doesn`t stop people from breeding these dogs and selling them under all kinds of fancy designer dog labels. If you`ve been attracted to the Bernese Mountain Doodle, the Labradoodle, the Goldendoodle, or any other kind of doodle, here are some considerations.
They are NOT purebred. It is common these days to hear someone refer to their Labrador poodle cross as a purebred dog. In fact, no doodle is purebred. All doodles currently being bred are considered a mixed breed dog with unpredictable characteristics.
They aren`t healthier. Lots of people think that mixed breed dogs will be healthier than purebreds. In fact, it is very common for these mixes to inherit problems from either or both parents or have new problems because of how breed-traits came out.
You are extremely unlikely to get a low shed coat. The vast majority of poodle crosses do not have a low shed coat at all. In fact, many people find that they get the worst of both worlds: a coat that requires a lot of maintenance to avoid matting but still sheds.
Breed traits are unpredictable. You can get any mix of traits from either of a dog`s parents when you choose a doodle. You cannot feel confident that your dog will be confident, sensitive, friendly with other dogs or people, or any other reliable traits.
Just get a poodle instead.
Recommendations on Where to Buy a Standard Poodle Puppy
Do not buy a standard poodle puppy based on what you see in classified ads or from the results of a quick online search. Instead, look for an independent poodle breeder and carefully research the poodle breeder before you commit to buying a standard poodle from such a breeder.
A good way to start your research into buying a standard poodle puppy is to find standard poodle owners that you know have healthy and well-behaved puppies. Then ask these standard poodle owners where they bought their standard poodles. With this information, you will have starting ideas of what breeders are out there that sell good puppies.
Another great resource for finding reputable breeders is the AKC marketplace. On the AKC marketplace, you will find AKC-vetted breeders that use best practices to raise standard poodle puppies.
In addition, the AKC awards badges to breeders based on how well these breeders raise their puppies. The classes of badges AKC gives to breeders are:
AKC Breeder Of Merit: Awarded to AKC member breeders that certify that applicable health screens are performed on their breeding stock.
AKC Bred with H.E.A.R.T.: Awarded to responsible breeders that uphold AKC`s tradition of breeding purebreds, and that are committed to accountability and education and committed to the health of their breeding stock.
AKC Club Member: Awarded to a breeder who is part of an AKC Club and who upholds that tradition by being an active contributor to the success of their club.
AKC Champion Bloodlines: Awarded to a breeder that has had at least one dog that had won an AKC title in its puppy`s parentage, going back three generations.
Ask your breeder, what AKC badge they do have.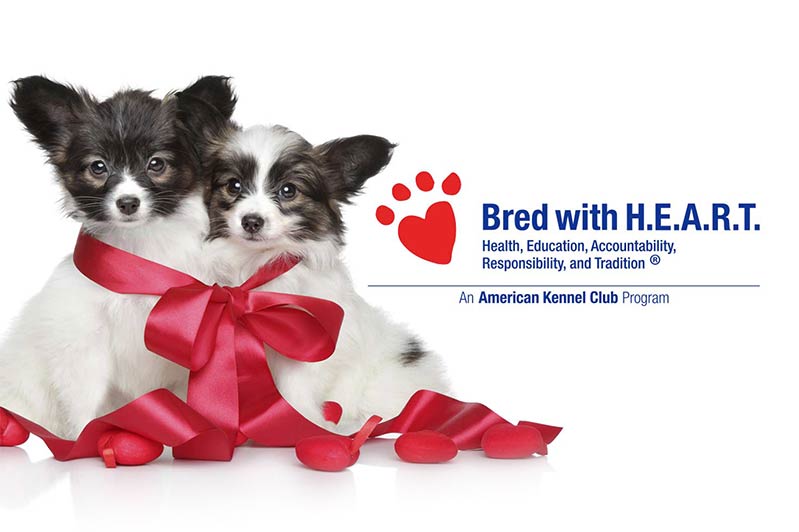 We have compiled for you a list of AKC-approved standard-poodle breeders in the USA. Our list has the website and contact phone number of these breeders. When you contact the breeders for information on standard poodle puppies, you may ask them the following questions:
Ask how much the breeder sells his/her standard poodle for.
Also, ask the breeders when next they will have standard poodle puppies available.
Ask what types of genetic health problems they screen their poodles for
Ask how many weeks after birth that you can pick up a standard poodle puppy (if you decide to buy from the breeder)
Ask what sets this breeder`s standard poodles apart from poodles from other breeders
Ask if the standard poodle puppy will come with AKC registration papers
Ask any other questions on what you are looking for in a standard poodle (color, size of parents)
Ask if the breeder has a Facebook page that you can follow. You can learn a lot about breeders by the stories that previous customers share on a breeder`s Facebook page.
You can see the distribution of USA AKC-approved Standard Poodle breeders on our map below. This map tells you how many options you have for breeders in your state. You may have to travel out of state to get the poodle of your dreams. From the map, you can see that Texas has the most AKC-approved poodle breeders (Yes, everything is bigger in Texas!).
I must mention that the breeder from whom I bought my standard poodle is not on this list. I chose my breeder, despite being not on the list, because I took my time (spend two years monitor another standard poodle that came from this breeder) to observe how other poodles from this breeder turned out. I found that their poodles always turned out well with no health or behavior problems. Then, I committed to buying a poodle from this breeder.
My standard poodle, Sansa, has been a great poodle. She is very well-behaved and healthy. She is growing really fast and big. She gets more adorable as she grows older.
The bottom line is that you can get a great standard poodle poodle from a breeder, even if the breeder is not AKC registered. The important thing is that you do your due diligence to research the breeder before buying a puppy from any breeder.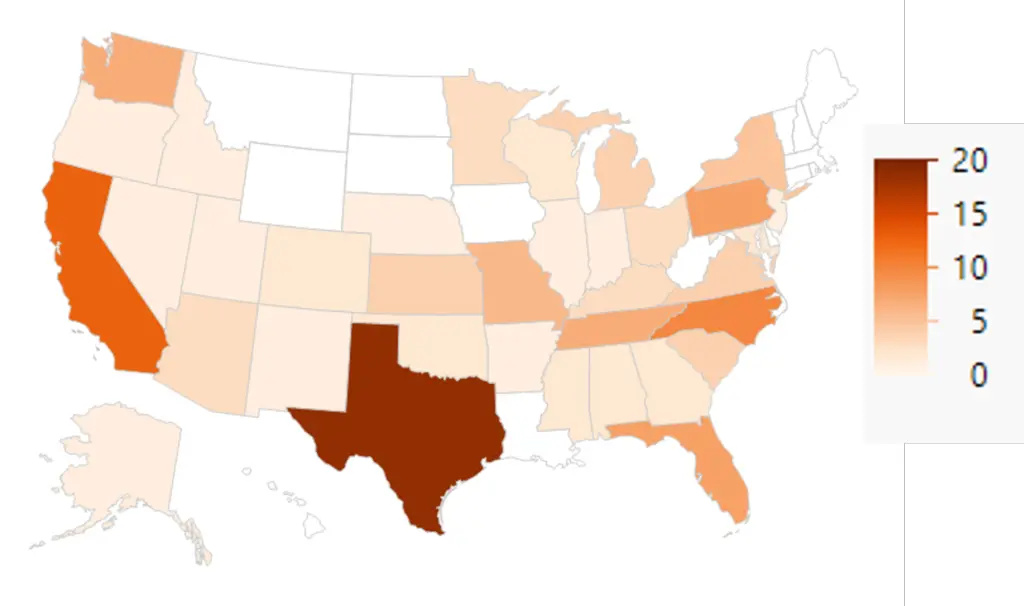 | | | | | | | | |
| --- | --- | --- | --- | --- | --- | --- | --- |
| | | | | | | | |
| | | | | | | | |
| | | | | | | | |
| | | | | | | | |
| | | La Bella Frenchies & Standard Poodles | | | | | |
| | | | | | | | |
| | | | | | |  https://www.facebook.com/mp.parker.16 | |
| | | Sharlene Craig ~ Brienwood Standard Poodles | | | | | |
| | | | | | | | |
| | | | | | | | |
| | | | | | | | |
| | | | | | | | |
| | | | | | | | |
| | | | | | | | |
| | | Hollywood Standard Poodles | | | | www.hollywoodstandardpoodles.com | |
| | | | | | | | |
| | | | | | | | |
| | | Murdock's Standard Poodles | | | | murdockstandardpoo.wixsite.com/puppies | |
| | | Ruby Red  Standard Poodles | | | | www.rubyredstandardpoodles.com | |
| | | | | | | Shooting star standard poodles on Facebook | |
| | | | | | | www.preciouspoodlepuppies.com | |
| | | Paradise Poodles & Doodles | | | | | |
| | | | | | | https://sunshinehollowpood.wixsite.com/poodles | |
| | | | | | | | |
| | | | Tosha Ruttman and Sandy Morrison | | | | |
| | | | | | | | |
| | | | | | | | |
| | | | | | | | |
| | | Bear Cove Standard Poodles | | | | www.bearcovekennel.webs.com | |
| | | | | | | | |
| | | | | | | | |
| | | | | | | | |
| | | | | | | | |
| | | | | | | www.silverswandogkennels.com | |
| | | Lovegrove's Standard Poodles | | | | | |
| | | | | | | www.gkpoodlesndoodles.com | |
| | | Leech Lake Poodles.walker.mn | | | | | |
| | | | | | | www.facebook.com/poodlesaround | |
| | | | Chris thurman or Wes Thurman | | | | |
| | | | | | | | |
| | | | | | | | |
| | | | | | | www.lillihollowpoodles.com | |
| | | Meadowbrook Standard Poodles | | | | www.meadowbrookstandardpoodles.com | |
| | | | | | | | |
| | | | | | | | |
| | | | | | | | |
| | | | | | | | |
| | | | | | | | |
| | | | | | | http://www.facebook.com/topknotchkennel | |
| | | | | | | | |
| | | | | | | | |
| | | | | | | | |
| | | Tails Up Standard Poodles | | | | | |
| | | | | | | spiveyssplendidstandardpoodles | |
| | | | | | | www.carolinahillhomestead.com | |
| | | | | | | | |
| | | | | | | | |
| | | kevin castleberry standard poodles | | | | | |
| | | | | | | www.southerndivinekennels.com | |
| | | N'Co.  Parti Standard Poodles | | | | | |
| | | | | | | | |
| | | | | | | | |
| | | | | | | | |
| | | Columbia River Sunset Poodles | | | | | |
| | | | | | | | |
| | | | | | | | |
| | | | | | | | |
| | | | | | | | |
| | | | | | | | |
| | | | | | | | |
| | | | | | | | |
| | | | | | | | |
| | | | | | | | |
| | | | | | | | |
| | | | | | | | |
| | | | | | | | |
| | | | | | | | |
| | | | | | | | |
| | | | | | | | |
| | | | | | | | |
| | | | | | | | |
| | | Pleasant Valley Standard Poodles | | | | www.pleasantvalleystandards.com | |
| | | | | | | | |
| | | | | | | | |
| | | | | | | | |
| | | | | | | | |
| | | | | | | | |
| | | | | | | Facebook: McEnery Standard Poodles | |
| | | Piney Woods Standard Poodles | | | | www.pineywoodsstandardpoodles.com | |
| | | | | | | www.evergreenbreeding.com | |
| | | | | | | | |
| | | Dream Come True Standard Poodles | | | | Dreamcometruestandardpoodles.com | |
| | | | | | | | |
| | | | | | | | |
| | | | | | | | |
| | | Wilma Turner  / Poodles on the Pond | | | | | |
| | | | | | | brownandredstandardpoodlesofcoplarcreek.com | |
| | | | | | | | |
| | | Divine Standards and Sighthounds | | | | | |
| | | Mount Bethel Poodles & Lagotti | | | | | |
| | | Lake Sai Poodles & Frenchies | | | | | |
The Poodle Breeder Mindset
To get a glimpse into a serious breeder`s mind, read the quote below. Many poodle breeders that I know like to quote this quote.
Let me say a few words to you, the person who writes an email to simply ask the price. The person who also calls and surprisedly states: "I can buy a cheaper dog elsewhere". I also address you; the person who just wants "a pet".

Not a single dog is just a dog.

Behind every purebred dog is a BREEDER. I'm using capital letters to differentiate a breeder from a pet factory, I have puppies available all year type of people. When you select to buy a dog from a breeder, this breeder is responsible for the health of every dog; owned and also sold. This breeder will skip holidays, sleeping, laying in bed and most of their own house space as this will be turned into space for their dogs. The truly passionate breeder who loves what they breed puts their whole heart into it. Not only in puppies that are sold but also in those who get sick and die.

A breeder will get their hands dirty, often covered in placentas and mud. Because that's what life is about: birth and death.

In the middle of birth and death is life. The wheel that keeps turning. A breeder will do progesterone tests, echos, x-rays, analysis, C-sections, vaccinations, research pedigrees, de-worm, as well as chipping their puppies and getting them evaluated by specialists.

Last but by no means least, a breeder CHOOSES the family lucky enough to have one of their puppies. Yes, you read that right. A true breeder chooses who they sell to.

Because it is not "just a dog".

Written by: Sr. Eduardo Loredo Muller
Translated into English by: Angel Sophia Nogga
Consider a Standard Poodle for your Family
Standard Poodles cost about the same as any other purebred dog. They tend to be quite healthy, which means that you won`t have to worry about paying as many costs after the initial purchase cost. Standard poodles are also great family dogs and standard poodles get along well with kids.
If you`re having a hard time imagining paying thousands of dollars for a purebred AKC registered Poodle, consider adopting a retired breeding dog or a rescue dog. You can skip all of the frustrating puppy years and have a dog who will adore you and feel deeply grateful to you.