Last updated on September 29th, 2021 at 08:38 pm
A high-quality retractable leash is one of the many investments that a Standard Poodle owner needs to make. Leashes will be important for walking your dog, keeping your dog tethered and attached to specific areas, obedience training, and more.
As any owner will tell you, the Standard Poodle is a particularly energetic breed. They love to play and run around, and, due to their large size (sometimes weighing up to 70 pounds), can be very tough to reign in. Retractable leashes help owners respond efficiently as their dog needs to be reigned in; they let the owner quickly pull in the leash to bring the dog closer, and can allow the dog more flexibility and comfort as they walk around.
Choosing the right retractile leash for your Standard Poodle means choosing a leash that can accommodate your poodle's size and strength, allowing you to gain the needed control over your poodle without hurting them. In addition, depending on your Standard Poodle's habits or your individual needs, you may find yourself gravitating to one leash or another.
To help new Standard Poodle owners out, we have created this guide on our five leash recommendations for Standard Poodles. We will begin with our overall top recommendation, and will then branch out into various niches of leashes that you may find useful. 
If you plan to hike with your poodle, check out our article on if poodles are good hiking dogs.
Our Top Leash Overall: The TUG Patented 360 degree Tangle-Free, Heavy Duty Retractable Dog Leash
Our top leash recommendation for Standard Poodles is this TUG Patented 360° Retractable Dog Leash. 
This is the leash that I use for my standard poodle.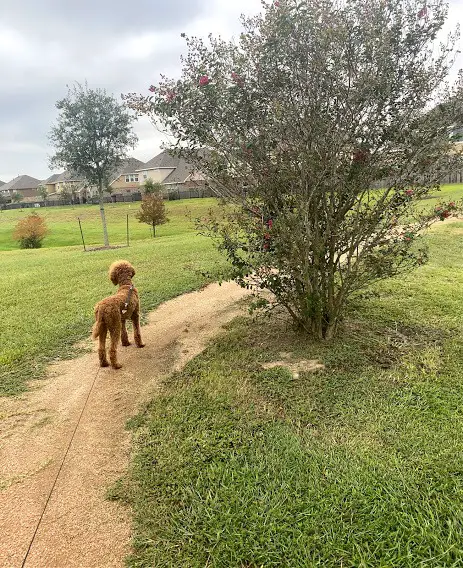 This leash is strong and sturdy, and is easily able to support dogs up to 110 pounds It extends up to 16 feet long, and is made from a tangle-free nylon material that can be retracted at any angle. This makes it perfect for more rambunctious dogs who may be prone to running from one direction to the next, as it will allow you to pull your dog`s leash in no matter what orientation you hold the handle at.
The handle of the leash is specially made to maximize grip while still being comfortable, so it is a great choice for longer walks. The leash itself only weighs about 0.9 pounds, meaning that most Standard Poodles should have absolutely no problem carrying them. 
Some users of this leash have reported snagging and breaking, particularly if their dog chews on it. Thankfully, TUG also offers stellar customer support, and is more than willing to send replacements if a legitimate problem with your leash does arise. 
For its sturdiness, flexibility, comfort, and great customer support backing it, we have to recommend the TUG Patented 360° Retractable Dog Leash to anyone looking to buy a leash for their Standard Poodle.
Key Features
Strong, sturdy design able to support dogs up to 110 lbs
Made of a tangle-free nylon cord
Leash can be easily retracted from any angle.
Company offers professional, friendly, and quick customer service
Click here to check the price of the TUG Patented 360° Retractable Dog Leash on Amazon!
Here is a video of my the TUG retractable dog leash on my standard poodle: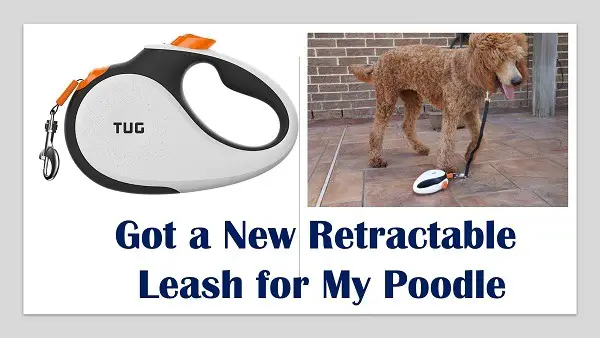 Our Runner-Up Leash: The Fida Retractable Dog Leash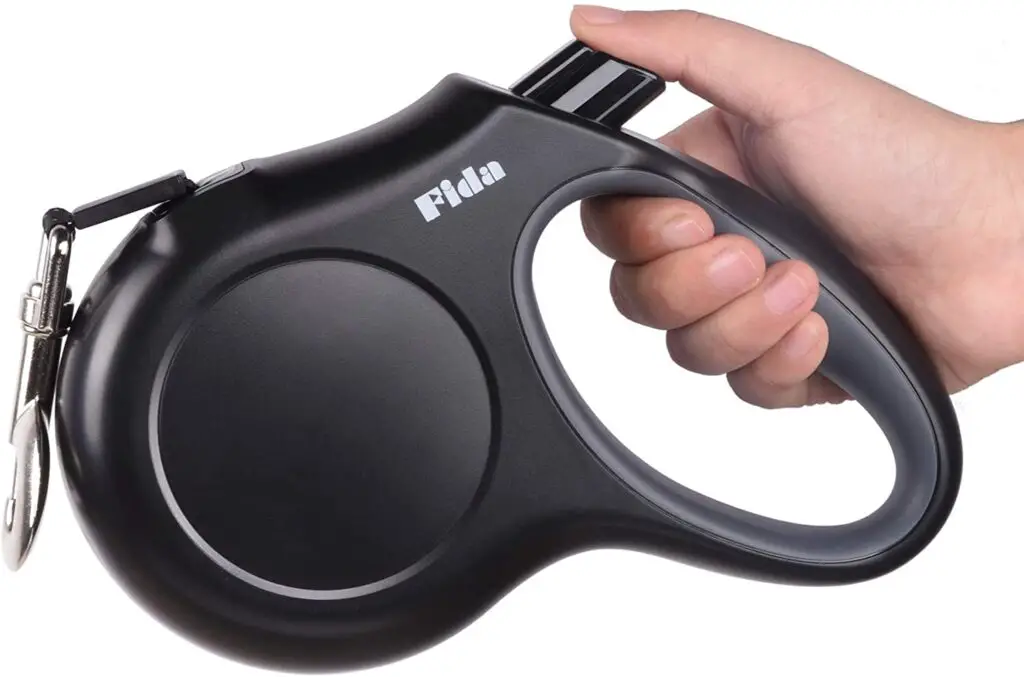 Our second-highest leash recommendation for Standard Poodle owners is the Fida Retractable Dog Leash.
This sturdy leash, like the TUG leash, is capable of handling dogs up to 110 pounds. It has a similarly strong handle to the TUG leash, giving you enough grip to comfortably maintain control over your dogs. It is made out of a reflective material that will give you and your dog an extra bit of visibility in the road. The swivel hook connecting the leash to your dog's collar is also rust-proof, which will help keep the leash from degrading too quickly. 
The leash also has an easy-to-use roll-on/roll-off locking system that can be maneuvered with just a thumb for owners who are multi-tasking or walking multiple dogs at once.
The largest drawback with the Fida leash compared to the TUG leash is its lack of 360° retraction with its leash. This gives owners a lot less flexibility in how they will pull in their Standard Poodles and thus makes it more suited to Standard Poodles who are less likely to act in quick, unpredictable ways. If your Standard Poodle does not necessarily need that extra bit of flexibility in their walk and you are looking for a high-quality, long-lasting leash, we recommend this Fida leash. 
Key Features
Made of a strong and sturdy material
Easy-to-use locking system; perfect for handling multiple leashes at once.
Reflective material that will help you and your dog stand out at night
Click here to check the price of the Fida Retractable Dog Leash on Amazon!
Our Top Leash for Those on a Budget: LEWARM 10ft 360 ° Retractable Dog Leash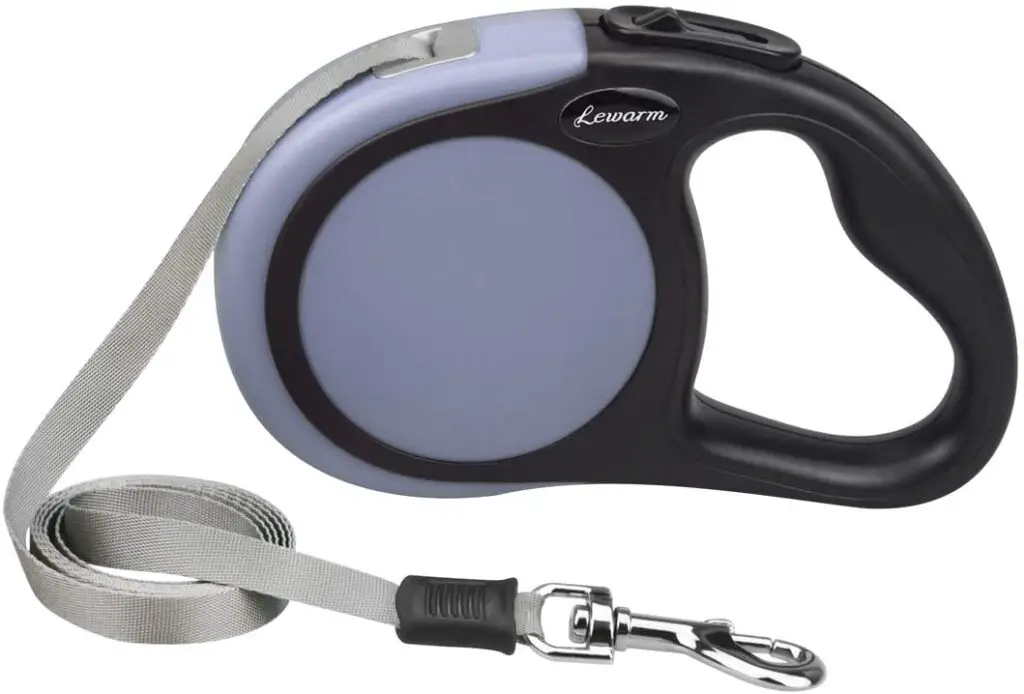 For those looking to buy a leash on a tighter budget, we recommend the LEWARM 10ft 360° Retractable Dog Leash.
These leashes are somewhat shorter than the other leashes on our list, but as a result they are also quite a bit cheaper. They have the same 360° retraction feature that makes them extremely flexible to use, and they are made of a fairly sturdy material that can stay strong even against the chewing of dogs. However, they will not be able to manage stronger dogs as easily.
This short length is much more suited to younger, smaller Standard Poodles, and we recommend it for new owners looking to save money before committing to a more expensive leash. The grip of these leashes is somewhat less comfortable compared to some of the other retractable leashes on this list, particularly for adult hands. That said, this leash still makes the perfect budget option for new Standard Poodle owners.
Key Features
Very cheap price-point for a retractable leash
Resistant to dog-chewing
Smaller length; more suited to smaller Standard Poodles
Click here to check the price of LEWARM 10ft 360 ° Retractable Dog Leash!
Our Top Bells-and-Whistles Leash: TAKSIN The Ultimate Hands Free Dog Leash for Walking Running Hiking
For owners willing to spend a bit more money for a few extra features, we recommend the TASKIN Hands Free Dog Leash, which is perfect for owners that enjoy going on runs with their Standard Poodles.
This leash is connected to a utility belt that the owner wears around their waist, allowing them to walk or run with their dog without constantly holding the leash. You can decide where you would like to attach the leash to and fit the utility belt to your size to stay as comfortable as possible. Each leash comes with a built-in handle so that owners can still easily direct their Standard Poodle if need be. The leash can also be detached from the bag and used as a hand leash.
The utility belt itself comes with plenty of different compartments and pockets that an owner will find useful. Two of the most helpful of these compartments are undoubtedly the poop bag dispenser (for easy access to bags when your dog needs to go) and an expendable waste pouch (to hold any trash or used-bags that you collect along your way). These all will help you free up your hands and focus on your run or hike with your Standard Poodle. 
The leash is made out of a bungee material. The material is highly reflective and will help make you more visible to oncoming traffic if you decide to use it at night. The bungee technology of the leash also helps minimize any discomfort to your Standard Poodle by absorbing the brunt of the shock as you run.
The main thing to avoid with this leash is putting too much strain onto the utility belt. Loading it with items may cause some of the pockets to break or the belt to snap. Otherwise, the TASKIN leash is packed with ways to change up your walks or runs with your poodle.
Key Features
Leash attaches to a utility belt; perfect for running and hiking with your Standard Poodle
Utility belt has multiple compartments and pockets, as well as a bag dispenser and waste holder
Leash can be detached and used as a hand leash
Reflective material that stands out in the dark
Click here to check the price of TAKSIN The Ultimate Hands Free Dog Leash for Walking Running Hiking on Amazon!
Our Extra-Long Leash: FLEXI New Classic Retractable Dog Leash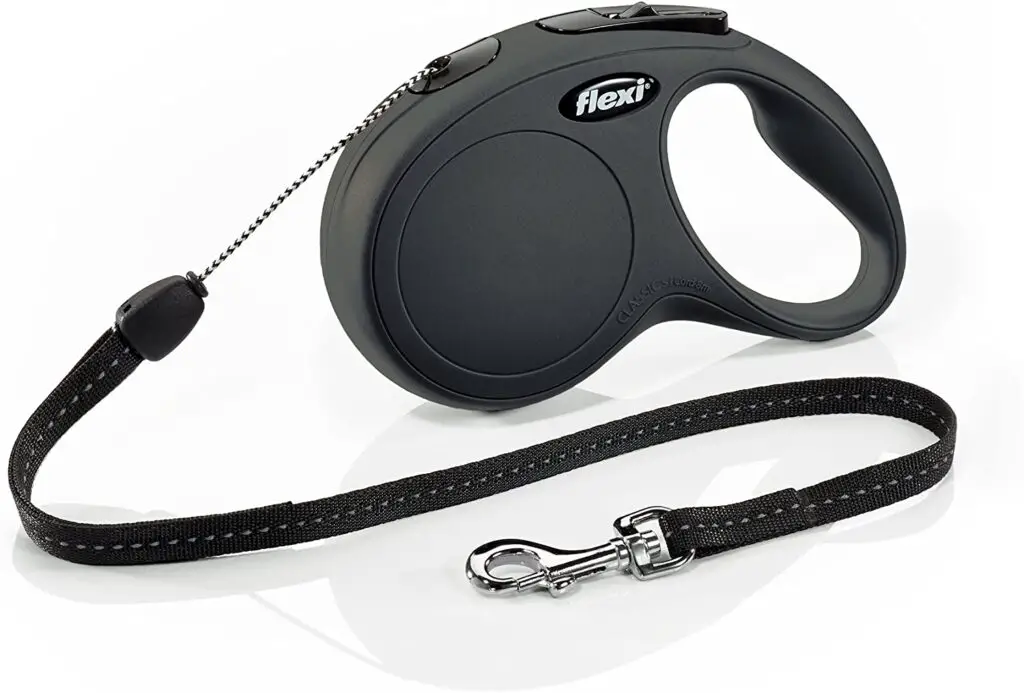 For owners looking for especially long leashes, we recommend the FLEXI New Classic Leash.
This leash is 26 feet long, and made out of a flexi cord wire.
Because of their long length, these leashes are well-suited for obedience training, particularly when you are training your poodle to respond to their name. These leashes will allow your Standard Poodle the space they need to wander around until you call them while still allowing you to keep a good grip on your dog. These types of leashes are also great for teaching your Standard Poodle how to play fetch while still keeping them under control.
In addition, if you have a larger backyard or are planning a camping trip, these longer leashes may be perfect for tethering your dog in a way that avoids trapping or hurting them. That said, if keeping your dog tethered to a spot for a long time, be sure to regularly check on the leash. The material is fairly easy for a determined dog to bite through and can be fairly fragile. 
Key Features
Very long, 26 feet long flexi cord wire
Great for training and playing with larger Standard Poodles
Click here to check the price of FLEXI New Classic Retractable Dog Leash!
Final Thoughts
With a breed as energetic and large as Standard Poodles, picking a suitable leash is a must. Retractable leashes offer owners the control they need to properly reign in their dogs to keep them safe and close by. Still, even when just looking at retractable leashes, there`s plenty of choices to be made. Before buying a leash, make sure to consider its price, its durability, its length, and whatever other factor may be applicable to you and your poodle.