Yes, poodles are good hiking dogs. Poodles have a lot of energy and just love the outdoors.
Poodles come in three different sizes:
Standard
Miniature, and
Toy.
Each size is suited for different types of activities. The largest type of poodle – Standard Poodle – is suitable for all kinds of outdoor activities including hiking and jogging.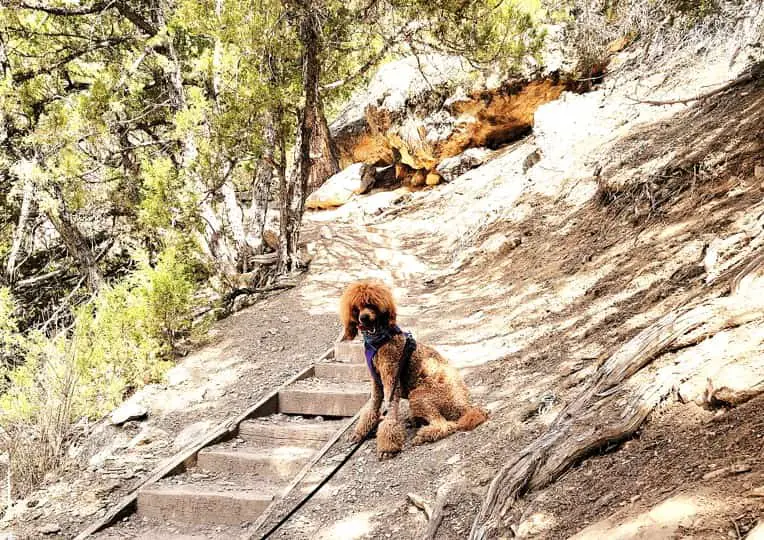 The smallest type poodle – Toy Poodle – is suitable for activities such as playing fetch in the backyard or short easy walks. It can do hikes, but short and easy hikes.
I have taken my standard poodle, Sansa, on many hiking adventures. She loved every hike we have been on. Like all poodles, she likes the outdoors.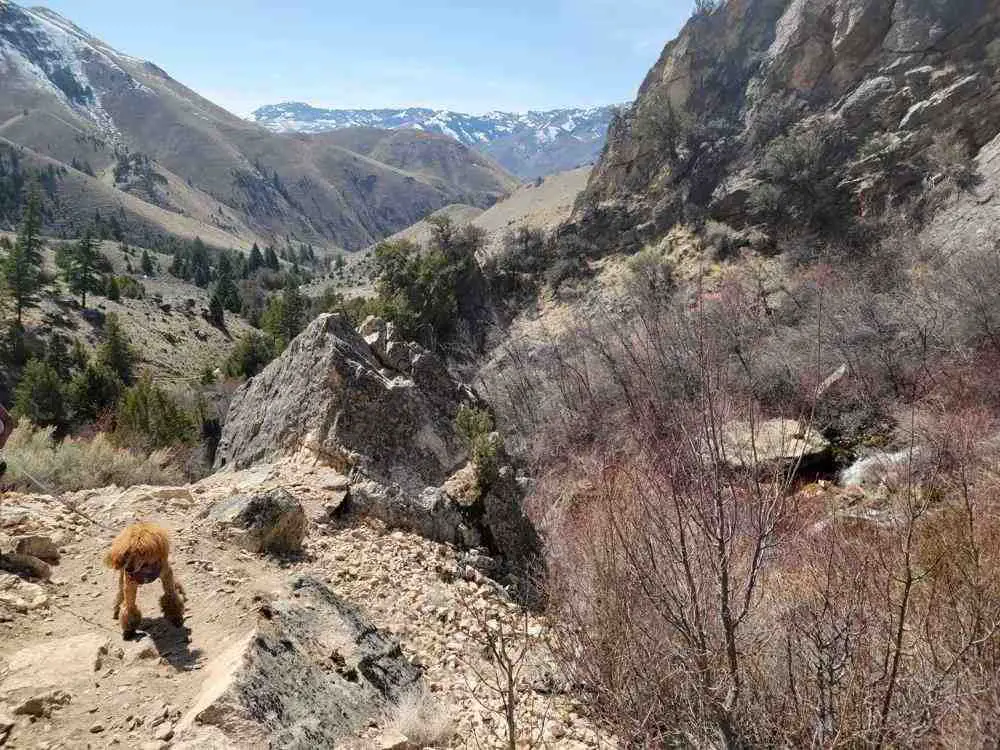 It makes sense standard poodles love hiking because standard poodles were originally bred to be hunting dogs. They are no strangers to the outdoors.
The most intense hike that I have taken my poodle on was a mid-difficulty hike of 4 miles to the Goldbug Hot Springs, Salmon, Idaho. I was at that time on a travel assignment in Whitefish, Montana which was very close to the hot springs. I took my poodle with me on that trip.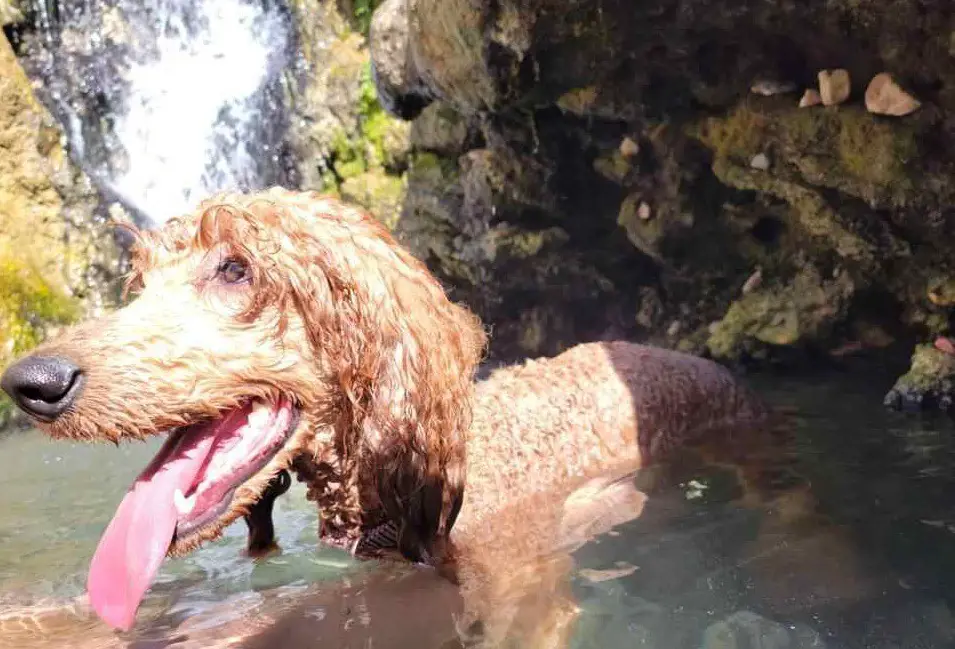 Hiking is an outdoor activity that you can do with any size poodle, but it requires a lot of physical activity. Standard poodles are perfect for hiking because they have good endurance, stamina, and strength to hold their own on longer hikes without tiring out too quickly.

The smaller-sized miniature poodle and toy poodle will tire out faster on a hike than the standard poodle so they should only be used for shorter distances at first until their owner can tell how much endurance each dog has.
Although smaller dogs will tire out faster than larger dogs when participating in strenuous activities like hiking but this does not mean they cannot hike at all, it just means that they will need to take more frequent breaks than a larger dog would need.
The people that I know who hike with poodles love to hike with poodles because they are very good hiking companions.
Poodles also enjoy exploring new terrains and places so there`s never a dull moment during a hike! If you`re looking for an adventure buddy or someone to train with, try taking your poodle out with you on the trails soon – we bet you both will have a blast!
Poodles can sometimes carry their own hiking supplies and water bottles in backpacks and will follow their owners wherever they go without question.
Backpacks for Hiking Poodles
An excellent hiking backpack that your poodle can carry for its own supplies is the Kurgo Dog Saddlebag Backpack. This backpack is lightweight and it also doubles as a harness, and it has a reflective coating for the dark. Check out this poodle backpack here on Amazon.
Another good backpack for poodles on a hike is the Outward Hound, Lightweight Dog Backpack available here on Amazon.
Best Leash for Hiking with a Poodle
When it comes to choosing a leash for hiking with a poodle, make sure you choose one that is strong enough for your poodle. Personally, I prefer a retractable leash with a long lead.
A long retractable leash allows me to let my poodle roam if I want my poodle to and explore a little bit of the outdoor on its own. A retractable leash also allows me to keep my poodle close to my side if I want her to be by my side.
Another thing worth mentioning is that depending on where you live, some trails may have a leash law. Some rules do include leashes being no more than 6 feet long so keep that in mind when planning out your hike!
The retractable leash that I recommend for hiking with poodles is the TUG Tangle-free heavy-duty retractable leash available here on Amazon. It is the leash that I use for my poodle when I take her on a hike. See my review of the best retractable leash for poodles here.
Things to pack when hiking with a Poodle
Here are a few items you may want to pack before going on a hike with your poodle. The list is not exhaustive because whatever you pack depends on the length and type of activity you do on your hike. But do not forget to pack these basic items when packing for a hike:
Poop bags – You`ll need something to pick up after your poodle. Leaving behind dog poop will contaminate a trail which means other hikers may be uncomforable passing by fresh poop until at least 24 hours has passed for nature to do its thing – decomposing the poop. While this isn`t necessarily dangerous, it does pose sanitation issues and gets annoying for hikers who expect a place to be clean.
Portable dog bowls – You`ll need a waterproof bowl or container to hold your poodle`s food while on the trail. This can get wet so make sure it is sealed well and won`t leak while you`re out hiking. Also, pack along a small plastic travel bowl to provide water for him/her during breaks which you should take often if he/she hasn`t been drinking enough from his own supply.
First aid kit – Make sure this includes bandages, gauze, cotton swabs, tweezers, antiseptic spray – basically everything you would have in your own first aid kit at home! If your poodle has sensitive skin, take an anti-histamine with you just in case your dog gets stung by a bee or bitten by a bug that causes hives.
Cellphone – You`ll need to have your cellphone to call for help if there is an emergency during the hike. Make sure you your phone is fully charged before going on a hike.
Leash/collar/harness – Be prepared with these items beforehand so you can clip them onto your poodle`s collar before heading out on the trail. The last thing you want to do is forget them at home and then be unprepared to head out! If you`re planning to take a long hike, we recommend you train your poodle first for an hour or two before taking him/her out on a much longer hike – like the whole day!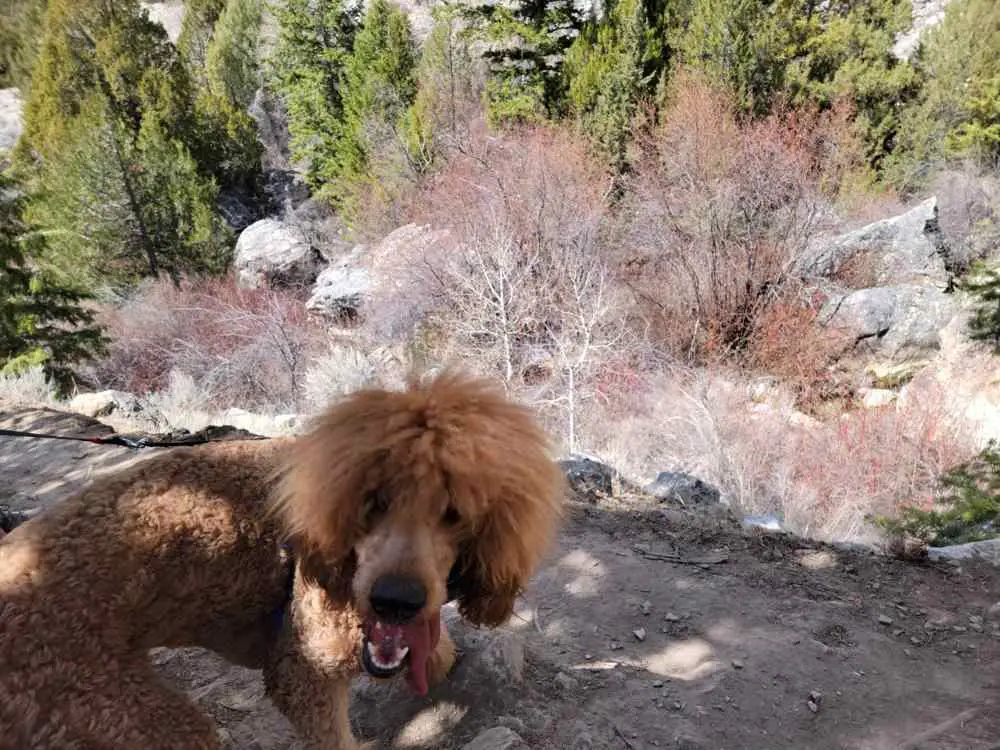 Also, be mindful of the weather when taking your poodle on a hike. You do not want to take your poodle on a hike when the weather is hot. Hot weather will make your poodle uncomfortable and this will tire your poodle out quikly on a hike
Also, do not forget to take a lot of water with you to keep your poodle hydrated on the hike.
And do not forget to pack some treats for your poodle. Reward your poodle with treats to make them find hiking very enjoyable.
We hope you and your poodle enjoy your hikes together!